FRANK R. YAGER: Unsung Hero of the Night Sky
When the Post Office proposed experimental night flying in 1923, not all U.S. Air Mail Service pilots were eager to volunteer for the new adventure. Tex Marshall said he wanted no part of it, "... flying a DH-4, for they were too fast when landing, for at night one had to be sure he did not stall on coming in, and landed faster than at the same place in daylight." Frank Yager, on the other hand, welcomed the opportunity to elevate aviation into a thrilling new dimension. He also saw an opportunity to hone his aeronautical skills and increase his take-home pay; airmail pilots who flew the transcontinental route in the dark of night doubled the mileage scale over daytime pilots.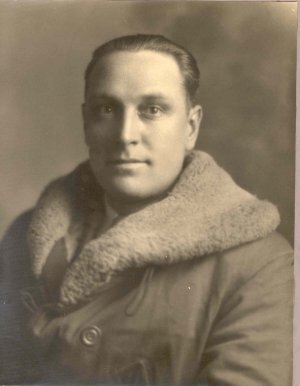 Frank R. Yager, 1924
Yager had already shown his mettle as a night pilot on February 22, 1921, when during the record-breaking day/night transcontinental experiment he flew the mail from Cheyenne to North Platte, arriving at 7:48 p.m.
Two years later, in February 1923 Yager, along with fellow pilots Jack Knight, Dean Smith, James F. Moore, Earl F. White, Ernest M. "Allie" Allison and Harry A. Chandler, began experimental night flying. They flew a course, from North Platte to an emergency field twenty-five miles away, testing such lighting techniques as rotating beacons, routing markers, field lighting systems.
Then on August 21 he took part in a four-day demonstration of the transcontinental day-and-night service. This latest exhibition was hailed by an enthusiastic public as "the beginning of a new era in aviation."
Transcontinental day-and-night service began on schedule on July 1, 1924, Yager flying the Cheyenne to Omaha portion of the route.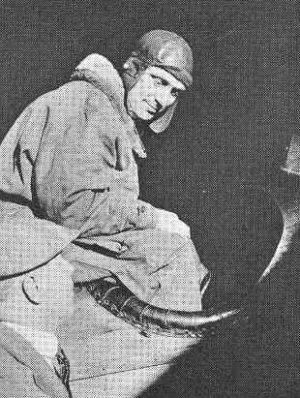 Yager arriving from Cheyenne at 1:40 a.m., Omaha, first night flight, July 1, 1924.
On July 7, during the first week of the operation, Yager, left Cheyenne, hoping to out run a storm approaching from the northwest. By the time he got to Lodgepole, Nebraska, he could barely see the lights of the emergency field at Chappell, Nebraska, ten miles ahead. Deciding he'd better wait out the thunderstorm, he approached the emergency field and was landing normally when a gust of wind struck the plane. His seat belt snapped and he was thrown clear of the craft, which was totally destroyed. Yager suffered no major injuries.
By the end of 1924 Yager had flown 31,473 miles at night, the highest number of miles flown in the darkness by any airmail pilot up to that time. From his date of appointment, August 10, 1920, to his last flight on June 27, 1927, 1927, Yager clocked 4,009.04 hours with the U.S. Air Mail Service over 391,616 miles.
After the Post Office, Yager signed on with Boeing Air Transport, flying their San Francisco to Chicago route. With BAT that he suffered another accident, crashing into a grove of trees near Marquette, Nebraska. Strangely enough, he failed to realize a passenger had died in the accident. S.N. Craig of Beaver, Pennsylvania, was already in the passenger compartment when Yager climbed into his cockpit before leaving Omaha. Yager had no idea a passenger on on board.
The cause of the accident was a broken propeller blade, which so unbalanced the motor that the prop wrenched free from the plane. Yager, who had been flying low because of head winds at higher altitudes, was thrown from the plane and suffered cuts, bruises and a skull fracture; his passenger died on impact.


Yager walked away from this in 1924.
Yager contributed to the WWII effort testing B-17 and B-29s for Boeing.
In 1950 on the occasion of the 50th anniversary of the U.S. Air Mail Service, Yager, at the age of 77, remembered with nostalgia the swashbuckling days he flew for the Post Office both by day and by night. He recalled advice he received one night when he landed at North Platte "too stiff to wiggle.
"Keefe (a North Platte attorney and aviation buff) told me I needed some crackle to thaw out. It was cherry-flavored North Platte moonshine. I took a stiff belt or two and took off for Omaha. I looked down and the Platte River was jumping all over the place. I pulled the old ship up as high as I dared to clear my head. By the time I got to Grand Island the river had settled down. You know I never felt a bit cold all the way into Omaha."