HE FLEW LIKE AN ANGEL
This U.S. Air Mail Service birdman flew with the stars, the celebrity stars.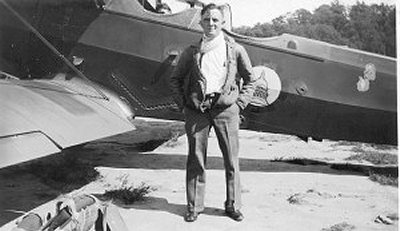 Photo courtesy of Mrs. Juanita Pomeroy
George Pomeroy traced the origins of his aviation career to 1913 when he worked as water boy, keeping the grass wet for a couple of crackpot flying machine addicts who needed a soggy field to land their craft on skids. Their names, Orville and Wilbur Wright. Eventually, he talked one of them into giving him a ride, and from that point on, as he told a journalist, "I knew that flying was for me."
He launched his career with the Army Air Service in France during World War I, then, after peace was declared, took tours of duty in Florida and Texas. He joined the Air Mail Service in 1924, flying between Omaha and Cheyenne.
For two years after the Service disbanded, he flew as a private pilot, ferrying sugar manufacturing magnet B.G. Dahlberg and his wife all the way from Baffin Bay, north of the Arctic Circle to South America and back in a Sikorsky amphibian.
In 1930, he signed on with Ludington Airlines (eventually became Eastern) and inaugurated the first scheduled passenger service between Washington, D.C. and Newark, N.J.
In the course of his duties, he flew such celebrities as George Ripley of Ripley's Believe It Or Not and Rudy Vallee who pronounced him the "best pilot in the world."
The birdman, now famous in his own right, took a job as executive pilot with Cities Service Company, flying their new DC-2 executive plane. Fast becoming an expert, he entered the Bendix Trophy Race between New York and Los Angeles in a DC-2 and nosed out Amelia Earhart by 18 minutes, taking fourth place.
During World War II, he flew in Hawaii and the South Pacific for the Air Transport Command. In this capacity, he ferried Admiral "Bull" Halsey on an island-by-island inspection trip and later carried Winston Churchill's delegation to the Montreal Conference.
After the war, Pomeroy became chief pilot of the Swiftlite Aircraft Corporation, a Cities Service subsidiary.
History | Air Mail Pilots | Photo Gallery | Flight Info | Antique Airplanes | Members
Newsletters | Museums/Books | Collectors | Questions | Links | Home Page