I am a antiquarian horologist. I collect watches and clocks. I specialize for the most part on military timekeeping.
Recently I was able to buy a pocket watch. There is no watch manufacturer identification on the watch. However, on the dial is the inscription: U. S. Air Service.
Would this name have applied to the U. S. Air Mail Service, as it is referred to on your web site? I have searched many different sources for information about the origin of the inscription. I would deeply appreciate any information which you or your members can supply. John W. Barron j.w.barron@worldnet.att.net.
Editorís note: I scanned an ad from the book "Aerial Mail Service: A Chronology of the Early United States Government Air Mail, March Ė December, 1918 advertising Hamilton Watch as the "...Watch of U.S. Mail Aviators."
There was a flight from Petaluma California to Santa Rosa California carrying mail in the very early 1900's. I believe the pilot was a guy with the last name Wiseman. Where could I find more info on this?
Have a nice Holiday, I have enjoyed your site. Gil Scovill (Email: Scovillg@aol.com )
Editorís note: Between October 1911 and December 1912 the P. O. approved 47 requests for airmail delivery. Wiseman may have delivered the mail on one of these contracts.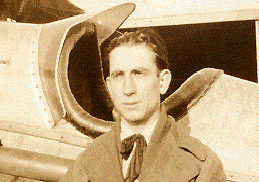 I am a grandson of an AMP. My Grandfather's name was Peter A. Toronto. He was a pilot and mechanic, and flew out of Long Island (1918 or so). I have many photos of these times. I have just recently started to scan them into my computer, and also save them on disk. I don't know all that much detail about his work in the AMP. (Mostly unlabeled photos), but I want to get these historical photos out there. Let me know if you would be interested in them. I'm eager to learn more about the photos I have, and the work my grandfather did and to preserve and add to the history of the Air-Mail Pioneers. Sincerely, David A. Wettengel DAW77@prodigy.net.
Editorís Note: Wettengel and I have e-mailed back and forth many times. He scanned photos of his grandfather and early Air Mail Service planes, such as the two photos on the top of this newsletter. Establishing links to AMP relatives is one of the many advantages of the Internet.
---
I just found your site. Iím a retired postmaster and now I can pursue my true love of collecting postal toys, badges, scales etc. Iím trying to locate a pair of aerial wings worn by the air mail pilots. Would appreciate any help you can give. I would like to see a copy of your news letter. Isidore Ifshin mrzip@bellsouth.net.
---
I enjoyed your web site. My father flew for Braniff airlines until his retirement about 15 years ago. One of the things I remember was that they flew the U.S. Mail along with the passengers. I often remember his comments about his making sure that the mail had to get through.
Keep up the site, it is a treasure.
---
Let me compliment you on a very nicely done web site and on a wonderful way of retelling the story of the first day/night transcontinental mail flights. - More readable than a lot of things you see in commercial magazines! Well done!
---
I have long felt that the Air Mail was a pioneering achievement which is not fully appreciated even by quite a few of those who are aware of it. I felt that an effort to preserve what remains to be preserved should be made. - Historical markers, preservation of historic sites, memorabilia, etc.
---
Iím trying to trace family and historical information regarding Frank T. Coffyn - aviator. He was one of the first team of six selected by the Wright Bros in 1910 and taught at the Wright Instruction Camp in Aiken, S.C. E-mail StrStudio@aol.com.
---
LAST FLIGHT
Dear Editor,
Sorry to be the bearer of sad news but Mrs. Marie T. Ricker passed away on November 20, 1998. Please remove her name from your records.
Mrs. Ricker celebrated her 100th birthday on August 21, 1998. She was given a very elaborate birthday party at the Jefferson Health Care Unit where she has been a resident since July 1993. 1 shall miss her very much as she was such a grand lady.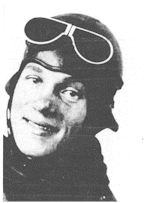 U.S. Air Mail Service pilot Max Miller. Photo courtesy of The American Air Mail Society.
I hope that although Mrs. Ricker has departed that you will continue to send me the Air Mail Pioneers pamphlet. Although I have not been a part of the Air Mail Service as Marie and her first husband, Max Miller, have been my association with her over the past 25+ years has made me feel a part of the Air Mail Pioneers. Yours sincerely, Armand R. Poyant, Executor
Editorís note: Mrs. Ricker was a long term employee of the Air Mail Service. It was in her early years of employment that she met and married her first husband Max Miller, the first civilian pilot of the service. He was killed on Sept. 1, 1920, when the Junkers JL-6 he was flying developed engine trouble then burst into flames over Morristown, New Jersey.
History | Air Mail Pilots | Photo Gallery | Flight Info | Antique Airplanes | Members
Newsletters | Museums/Books | Collectors | Questions | Links | Home Page