Early on the morning of January 8, 1924, a crowd of eager spectators from Iowa City gathered at the U.S. Air Mail Service airfield belonging to William J. Benjamin. It was a cold morning and the group warmed themselves by building bonfires. The minutes passed, then the hours. Just about the time they were ready to go home they heard the drone of a de Havilland-4B airmail plane. Their excitement mounted as the plane circled the field and landed. Pilot Howard K. Smith jumped out and ran over to accept congratulations from his friends.
The first leg of the Chicago to Omaha airmail service had been successfully completed. After warming up by the fire Smith proceeded on to Omaha, which he reached two hours later.
Benjamin's pasture, which had been converted into a field, complete with beacons, was a well known haven for airmail pilots plying the transcontinental by day and night. Just one week before this milestone the maiden westward run of the transcontinental airmail landed at Benjamin's pasture en route to Omaha.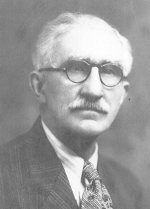 To his grandson, Bud Jennings, Benjamin was an unsung hero of the first day/night transcontinental experiment on February 23, 1921.