PIONEER NATIONAL AIR TRANSPORT PILOT WAYNE NEVILLE BROUGHT DOWN BY LIGHTENING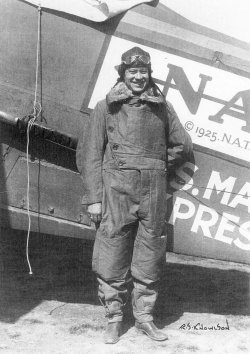 Wayne G. Neville
Wayne G. Neville, 28, was an experienced pilot, so adept flying through electrical storms in the dark of night that when he crashed and died en route to Dallas on a mail run one stormy night, his fellow pilots assumed he'd been hit by a bolt of lightening. How else could it happen, they said, with such expert hands at the controls?
Wayne was one of National Air Transport's top pilots with 6,500 flight hours to his credit, more than any other N.A.T. pilot. Wayne had flown for the contract airline since April 15, 1926, and was one of the original eight pilots on the Kansas City-Dallas air mail route.
At 3:25 a.m. on June 22, 1928, he departed Kansas city for Dallas in a severe windstorm. Heavy black clouds, lightening and thunder fast turned the early morning flight into a ride from hell. But Wayne was used to such conditions. According to Walter L. Beech, president of Travel Air, Inc, Wayne liked to fly through storms, not out of bravado but with the assurance he could combat the elements.
On that Friday morning at 4:00 a.m., a woman living on a farm in Lebo, Kansas, heard a high-pitched whining sound; it was not the wind whistling. She bolted out of her house just in time to see Wayne's plane crash in a nearby pasture. The N.A.T. Douglas transport had landed on its nose and bounced 20 or more feet, bits of the plane were scattered over a wide area, its pilot instantly killed.
Wayne was nicknamed Pinkie because of his ruddy complexion and genial personality. During his barnstorming days Pinkie, with his wife La Vaughn riding on the wing, thrilled viewers with his amazing stunts.
In 1917, he worked for the Fisher Body corporation at Detroit, then in 1918 enlisted in the U.S. Air Corps, serving as test pilot and instructor.
After discharge, he flew commercially, carrying mail and passengers, also supplementing his income with flight advertising and circus flying shows.
Wayne was survived by his widow, La Vaughn, whom he married in Dallas in February 1924.
Blueprint of Neville crash: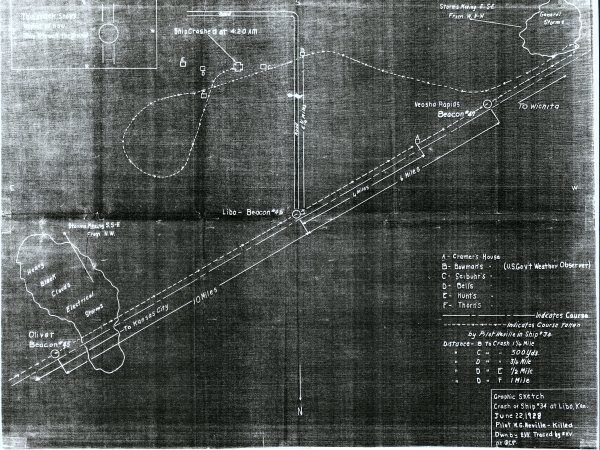 Enlarged blueprint sections -- click here