Clarence A. Gilbert
First tragedy of night/day transcontinental airmail
Clarence A. Gilbert join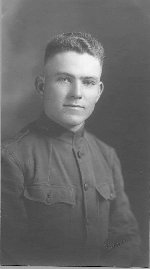 ed the U.S. Air Mail Service committed to a vision of air travel's glorious future. In a note penned to his family he wrote that airplanes "backed the automobile off the map." With characteristic enthusiasm, he entered de Havilland training, ready, as he said "to give her the gun."
Gilbert gave the WWI English-built bomber de Havilland "the gun" first as a U.S. Army flying cadet and later as a flying sergeant at Ft. Crook, Omaha. An accomplished pilot, the Army 2nd lieutenant was easily accepted into the Air Mail Service on August 15, 1924. After briefly serving as a mechanic and relief pilot at Iowa City, he received a regular appointment, flying the mail from Chicago to Iowa City.
Came the night of December 21, 1924; Christmas mails were accumulating and additional flights deemed essential. Gilbert was pressed into service.
Many years later Congressman Bob Dole, principal speaker at a dedication ceremony to Gilbert in his home town, Plainville, Kansas, described the day of the tragedy. "December 21, 1924, was a drab winter day with a low, gray overcast," he began.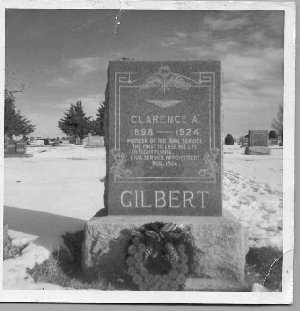 "The horizon was only dimly outlined, and visibility was cut to a few miles by a blue haze. This last-minute Christmas rush was on, both in the store and in the air mal; and extra sections were called in to help transport the surplus packages. Clarence Gilbert was one of two pilots chosen to fly the mail west that day.
"He took off from Chicago on scheduled time [7:00 p.m.]; and as he flew west, he encountered a blinding snow storm which obscured the very essential flares of the lighted airways below. It is assumed that Clarence Gilbert, unable to rely on his sense of direction, balance, or altitude, finally decided to relinquish the plane to the unyielding elements, and if possible, save his own life. He paused long enough to cut the ignition, thus preventing fire and saving the mail.
"He then stepped over the side, but his parachute had opened too close to the plane and the tail surfaces cut the lines, rendering his parachute useless. His resulting death was the first fatality since night flying had begun in July of that year.
"Much credit should go to those intrepid aviators who from May 1918, onward fought the battle of flying the mails. These pilots were true adventurers. They returned to the jobs day after day, coolly weighing their chances. In a time when most men plodded from home to office and office to home, this small group was set apart by an occupation wherein each departure bore the chance they may not return.
"Clarence Gilbert was in every sense of the word a 'pioneer' and a 'hero.' It is both fitting and proper that we pause to dedicate this memorial to him today."
---
Photo Gallery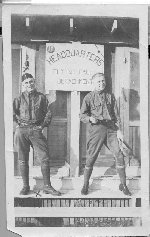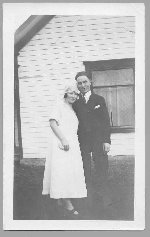 Left: Clarence Gilbert on left. Right: Clarence and Blanche Gilbert in 1923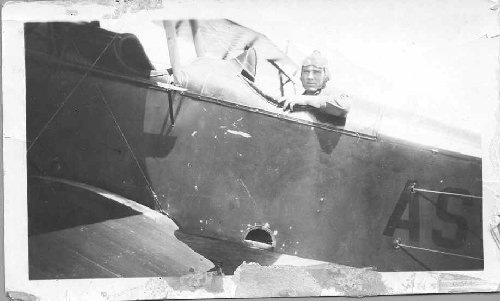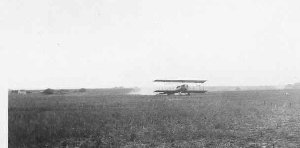 Clarence Gilbert in de Havilland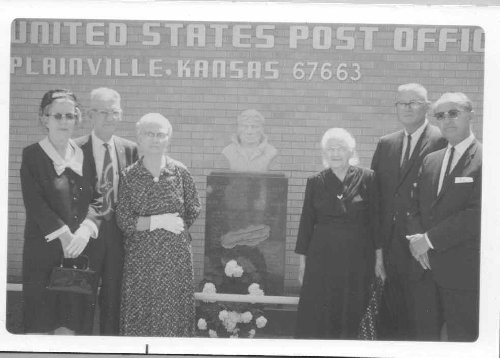 Back Row Left to Right: James Gilbert and Harlan Gilbert (brothers). Front Row: Blanch Murphy (widow), Ethel Shepherd (sister), Rose Gilbert (mother), Ed Murphy.
All photos courtesy of Anita Wilson