In 1902, one year before the Wright Brothers proved that powered flight was more than a dream, Fermon A. Stone was born on a farm near Wilsonville in Shelby County, Alabama. After receiving his education in nearby Columbiana, he became attracted to a career in aviation, an attraction that would last for the remainder of his life.
In 1921, at the age of 19, Fermon Stone joined the 106th Observation Squadron in Birmingham, Alabama. He received his commission in 1925 and served as an active observer until 1926. Later that year, he requested, and received, an opportunity to qualify as an Army Air Corps pilot. He departed for Brooks Field in San Antonio, Texas where he later graduated from the Army Air Corps Flight Training Program. He then returned to the 106th Observation Squadron in Birmingham, this time as a pilot.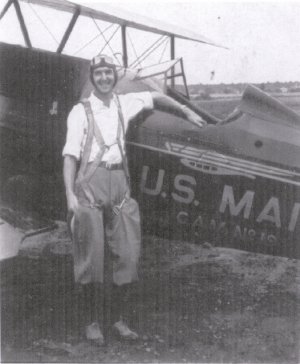 Fermon A. Stone, 1927-28
photos courtesy Luther M. Stone
In early 1927, Fermon Stone accepted a position with the Douglas Davis Flying Service in Atlanta, Georgia. Mr. Stone's new responsibilities included traveling with the Davis Flying Carnival, giving aeroplane rides and performing breath-taking exhibitions of stunt flying and aerial acrobatics throughout the southeast.
Searching for more secure employment, Fermon Stone joined fledging Pitcairn Aviation in 1928 as a flight instructor and assistant field manager of Candler Field, present day Atlanta Hartsfield International Airport. As the Pitcarin organization expanded its services to include the transportation of mail, Fermon Stone became one of that company's, and the nation's, original airmail pilots. His fellow pilots at Pitcarin included the flamboyant Dick Merrill and the soft-spoken Sid Malloy. In later years, historians would remember these men as the first of a long line of pilots that wore the uniform of Eastern Air Lines.
In 1928, a pilot employed by Pitcairn Aviation earned five cents per mile flown during daylight flights and ten cents per mile for night flights. Fur-lined flight suits, leather helmets, and goggles were the standard attire for airmail pilots during those years. Postal regulations also required pilots to wear a sidearm as a means of protecting the mail, much like their predecessors in the days of the pony express.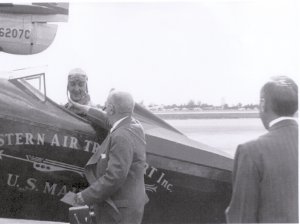 Re-enactment of Atlanta-Miami flight, 1928
On December 1, 1928, Commercial Airmail Route 10, inaugural service between Atlanta, Georgia and Miami, Florida departed Candler Field at 6:55 a.m. , with 26 year-old Fermon Stone at the controls. The first leg of the flight would take the young pilot to an intermediate stop in Jacksonville, Florida. After connecting with the northbound service from Miami, Pilot Stone would then make the return trip to Atlanta, arriving in time to transfer the mail to the north-bound flight departing for New York City and points in between.
The Atlanta Constitution provided front-page coverage of the event on the following day. Paraphrasing Murphy's Law, if anything can go wrong on an inaugural day, it will. Low hanging clouds and poor visibility forced Pilot Stone to fly at an average height of not more than 150 feet over the entire route. During the trip, he encountered such violent storms that he was forced to land in a wheat field near Cochran, Georgia. A farmer gave Pilot Stone a ride into the local post office where a local sheriff immediately arrested him for carrying a gun. A hasty phone call to Jacksonville, where a crowd of more than 1,000 spectators were waiting, got him released. He eventually arrived in Jacksonville later that afternoon, almost five hours late. Barely taking time to eat, Fermon Stone
departed Jacksonville 25 minutes later for the return trip to Atlanta. The ten pouches of mail were jammed into the cockpit so that the pilot barely had room to manage the controls. Upon arrival in Atlanta, fully five minutes ahead of schedule, the pilot's face was red and raw from the continuous pounding of wind and rain, and he was so stiff that he could barely climb out of the cockpit.
During the early years, the life of an airmail pilot was both difficult and dangerous. The average life expectancy of a Pitcairn pilot was approximately twenty-four months from the day he began his flying duties. Shortly after his inaugural flight to Jacksonville, Fermon Stone was critically injured in an accident after becoming disorientated in fog and low visibility near Waycross, Georgia. Although badly injured, he made sure that the mail was delivered to the local post office before agreeing to receive medical attention.
After the Pitcairn organization was merged into the company that became known as Eastern Air Transport, Fermon Stone's talent as an operational manager became apparent. He was promoted to Manager of Flying Operations at the company's Tampa base. His responsibilities included managing the operation of, and flying, the company's Ford Trimotor fleet on airmail flights between Tampa, St. Petersburg, and Jacksonville, Florida.
As a management pilot, Fermon Stone was asked to relocate to Cuba to assist in the organization of an airmail operation that would operate under the supervision of Eastern Air Transport. While in Cuba, he helped the new company inaugurate the transportation of passengers using Ford Trimotor aircraft. He also assisted in the instruction of Cuban pilots at the flight school the company established in Havana.
During the next twenty years, Fermon Stone's career with Eastern Air Lines provided him with a variety of responsibilities and challenges. During World War II, he was recruited by the Army Air Corps to establish and operate a flight school to train military pilots destined for service in China.
After the conflict ended, Captain Eddie Rickenbacker, President and General Manager of Eastern Air Lines announced the promotion of Fermon Stone to the position of Chief Check Pilot as well as receiving an appointment to the advisory Board of Directors.
In 1953, as part of the celebration of Eastern's 25th anniversary, Fermon Stone was asked to recreate his inaugural airmail flight into the State of Florida. For the first time in twenty-five years, Captain Stone piloted a Pitcairn Mailwing in airmail service. This time, however, the cargo was a special cachet for stamp collectors. At the anniversary celebration in Miami, Eastern's Chairman, Eddie Rickenbacker honored Captain Stone and 14 other pilots, for their twenty five years of service.
In 1954, Captain Stone, now Director of Flight Operations, estimated that during his flying career, he had been asked by 10,000 different passengers just how far they could see from various altitudes. He decided that a question asked that many times deserved an answer. The veteran flier went to work with a slide rule and flight navigation computer. In an article later published by Reader's Digest, Captain Stone answered the question for that publication's many readers.
According to Captain Stone's computations, a person of average height has a visual range at sea level of 2.9 miles on a clear day. Elevate the observer to 1,000 feet and the visual range is 42 miles. Captain Stone further calculated that at 25,000 feet, which was the maximum cruising altitude for conventional aircraft of that day, a passenger's visual range exceeded 180 miles.
Prior to his retirement in 1964, Fermon Stone was promoted to Vice President of Flight Operations for Eastern Air Lines. By this time, he had logged over 3 million miles in revenue service beginning with the Pitcairn Mailwing and ending with the McDonnell-Douglas DC-8. During his career, he flew every type of aircraft operated by Eastern Air Lines. Following his retirement, Captain Stone maintained an active role in the operation of the company by continuing to serve on various operational committees and boards.
At the time of his death in 1978, Captain Stone was one of the last of a rare breed of airmen whose career spanned the entire history of commercial aviation. He was a man of many talents who made numerous contributions to a fledging air transportation industry. More important, however, Fermon Stone was a pilot and aviation was his life. In a letter written prior to his death, Captain Stone stated, "It has been a wonderful life. If I could relive it, I would do it all over again."