HADLEY FIELD, NIGHT AIRMAIL'S FIRST EASTERN TERMINUS
As Post Office plans for inaugurating night airmail progressed it became apparent that New York's Hazlehurst Field, often blanketed in fog and smoke, proved sadly inadequate. What was needed was an area allowing clear approach from all directions and the establishment of improved terminal facilities. Officials set out locating the ideal location; in short order they found one, not in New York but in neighboring New Jersey.
On November 1, 1924, John R. Hadley, Sr. leased seventy-seven acres of level ground five miles from New Brunswick, New Jersey, to the Post Office for a new landing field to be called Hadley Field. Immediately, preparations began, land was cleared, radio masts erected, boundary lights installed, and provisions established for floodlights and revolving beacons. So rapid was the construction that by December 15 daytime transcontinental operations shifted from Hazlehurst to Hadley.
On the night of July 1, 1925, 500,000,000-candlepower arc floodlights swept the field for nearly a mile in half a circle. A powerful searchlight stood on top of a hangar revolving six times a minute. All was in readiness for the inaugural night flight for which more than 15,000 people had turned out to watch Dean Smith and J.D. Hill lift into a moonlit sky on their way to Cleveland.
As described by Dean Smith in "By the Seat of My Pants" after the goodbyes and handshakes trouble awaited him: "...I climbed in the DH-4. The newsreel cameras were grinding. I ran up the engine and roared down the field. As I was still climbing, not yet a hundred feet high, the engine suddenly revved down as though the throttle had been pulled back.
"...Praise be, I managed to make a full one-eighty turn and straighten out, floating back in over the fence, the engine not quite dead. Examination disclosed that a pin connection in the throttle rod had broken, and the butterfly valve in the carburetor had consequently slipped back... That first night the rod was quickly repaired, and I took off toward Bellefonte with little total delay."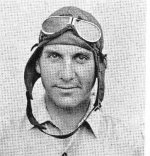 Dean C. Smith
Smith's problems were far from over. Engine failure forced him down again near Kylertown, Pennsylvania. Dropping his parachute flare, he landed in a small emergency field. Two hours later he left for Cleveland in another plane but ran out of gas fifteen minutes short of Cleveland and crashed landed, unhurt but upside down with crumpled wings in a farmer's vineyard. "Hmm," the farmer said looking at the crash, "Do you always land this way?"
J.D. Hill had better luck than Smith, his mail got through, and the first inaugural flight out of Hadley Field was deemed a success.
---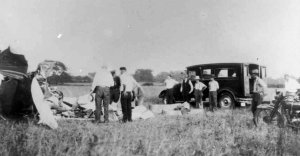 An early crash at Hadley Field. The plane, made of wood and canvas is a total loss. The black station wagon in the background may be a hearse.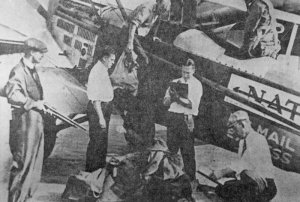 A National Air Transport plane being loaded at Hadley Field. Note the gentleman with the shotgun making sure the mail goes through.
Photos courtesy of Richard Veit and South Plainfield Historical Society.